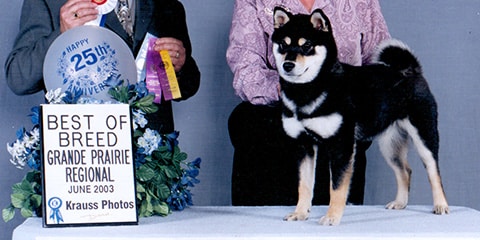 Championship Quality
World-class consistently produced purebred Shiba Inu from a CKC registered breeder with integrity.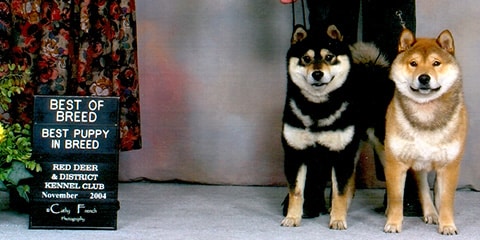 Award Winning
Ribbons and other awards are just the bonuses! We produce dogs with award-winning temperment and unprecedented loyalty.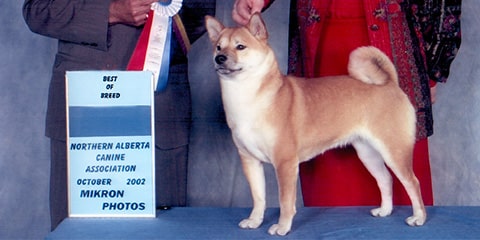 Cintara Shiba Inu
Are you interested in Cintara Shiba Inu and the multiple benefits of having these wonderful animals as your companion?
Why A Purebred? Why A Breeder?
The pros and cons of buying a dog as a companion or for security are many and varied. There are many publications that give you advice on what kind of dog to get and the information is usually very accurate. There is however one more piece of information that most publications do not cover and that is —Why was this breed of dog developed?
Some breeds were developed to work alongside people. Some breeds were bred to work independently of people, and still others were bred because of their ability to work with other animals. The single mindedness of harness breeds is a desirable trait in a sled dog, but as a pet it can be very annoying. The human attachment that is so important in a sporting dog can become an annoyance if you have to leave your dog alone for any length of time. So check out the background not only of the particular dog, but of the entire breed. It is this predictability of behaviour as well as looks that can make buying a purebred the wiser choice.
You will often hear that purebred dogs are vicious, or have physical problems because they have been in-bred for so many generations. This is simply not true. A reputable breeder will breed only from good breeding stock, and with as few faults as possible in that particular breed. A lot of research and thought has gone into each and every breeding. The problems arise when "backyard breeders" and puppy mills produce untold numbers of puppies without any thought to the pedigrees, temperament or inherited physical problems.
So how do you get a good one?
Firstly, refer to the list supplied by the N.A.C.A. if you cannot find the breed you require then contact any of the people registered with them. Remember, any member of the N.A.C.A. cannot sanction the breeding, purchasing or selling of unregistered and/or crossbred dogs.
Why Buy From A Breeder?
Most breeders sell for less than pet stores or puppy brokers, as the majority of breeders are not in the business of "breeding for bucks". Most breeders will also supply you with a much more extensive guarantee than any pet store or puppy broker.
If you are purchasing a puppy from any source, there are a number of conditions that should be met.
You should be able to see the mother of the pups. Most kennels will give you names of people who have purchased pups in the past, as references. It is not usual to see the sire of the pups, as quite often a bitch is sent away to be bred.
The price; depending on the breed this varies greatly. If you have been quoted $1000 by a number of breeders and then one says he or she can sell you a pup for $200, be suspicious of the quality of the pups, the guaranteed and follow-up available.
Guarantees; any reputable kennel will guarantee hips and temperment. To what extent, depends on the individual kennel.
Registration; C.K.C registration takes time; 6 to 12 months is not unusual, but, before you leave with your pup you should have the following: the Sire and the Dam's registered name and number, the birthdate of the puppy, how many pups were in the litter and how many of each sex. If you have this information you will be prepared should a problem arise.
What your breeder should expect from you.
Any breeder has the right to expect you to: provide proper housing and care for your dog -this means a properly fenced yard or dog run -not a chain or washing line run. These tend to make any dog noisier and more belligerent. Regular vet checks and maintaining all of your dogs scheduled shots. Secure housing for a bitch in heat (no accidental breedings), obedience classes and/or adequate socialization, and above all any breeder has the right to expect you to follow the same breeders ethic that they do!
Most breeders make it a requirement that should you run into problems with your dog and/or wish to give him/her up for any reason, your breeder should be the first to know and should have the first option to buy back the dog.
REMEMBER: If you have any more information on puppies, breeds, breeders or questions or concerns about a dog you have already purchased, please feel free to contact the N.A.C.A.
A History of Excellence
Decades of experience and countless testimonials from everyone who has experienced the added joy of life with Cintara Kennels Shiba Inu. Our Shiba's have become irreplaceable companions for a wide variety of wonderful people, including celebrities and sultans.
Please visit our online photo gallery or our official Facebook page to view more pictures of our wonderful purebred Shiba Inu.